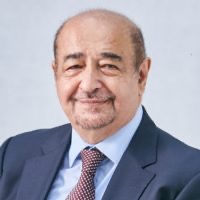 ​

Dr. Fereidun Fesharaki

Chairman

FGE
Dr Fereidun Fesharaki is the Founder and Chairman of FGE. His work is well recognized worldwide for pioneering oil and gas market analysis and studies of the Asia Pacific/Middle East energy markets since the early 1980s. 
He received his Ph.D. in Economics from the University of Surrey in England and then completed a Visiting Fellowship at Harvard University's Center for Middle Eastern Studies. He joined the East-West Center in 1979 and led the energy program as a Director and Senior Fellow till 2013. 
In 1989, Dr Fesharaki was elected a member of the Council on Foreign Relations in New York. Since 1991, a member of the International Advisory Board of ENEOS Holdings (and its predecessor companies). He was the 1993 President of the International Association for Energy Economics (IAEE). 
In 1995, he was elected a Senior Fellow of the US Association for Energy Economics for distinguished services in the field of energy economics. In 2002, appointed a Senior Associate of the Center for Strategic and International Studies in Washington, D.C. He received the Outstanding Contributions to the IAEE Award in 2012. He was a member of the Advisory Board of VOPAK LNG from 2013 to 2015. In 2014, appointed as Honorary Advisor by CNPC Research Institute of Economics and Technologies in Beijing. Dr. Fesharaki is the recipient of the 2016 Adelman-Frankel Award from the US Association for Energy Economics (USAEE) for his unique and innovative contribution to the field of energy economics. In March 2017, Chicago Mercantile Exchange (CME) appointed him as a Director of the Dubai Mercantile Exchange Limited (DME). Since 2009, he has been a member of the DME Board of Directors. Dr. Fesharaki has been appointed to the National Petroleum Council beginning in 2008 and most recently re-appointed by the US Secretary of Energy, Jennifer Granholm in April 2022.