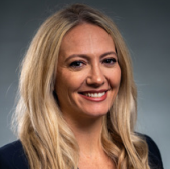 ​

Mrs. Sarah Bairstow

President and Chief Commercial Officer

​Mexico Pacific Limited
Sarah Bairstow has over 20 years of international LNG and energy leadership experience, including unique end-to-end commercial LNG project development experience, having successfully marketed and delivered LNG projects from concept through to operations. 
As President and Chief Commercial Officer of Mexico Pacific, Mrs. Bairstow is responsible for execution and delivery of the 14.1 mtpa Mexico Pacific export project located at Puerto Libertad, as well as future company growth projects. 
Prior to joining Mexico Pacific in 2019, Mrs. Bairstow was head of LNG Marketing for the 7.8 mtpa, $18.5bn Gladstone LNG Project, where she secured the long-terms SPAs before building and running the commercial LNG desk for close to a decade on behalf of project partners Santos, KOGAS, PETRONAS and Total. Mrs. Bairstow played an instrumental role throughout the project, from concept through to operations, with direct involvement across the build out of permitting, EIS, joint ventures, gas markets, pipeline and terminal development, LNG markets, shipping, port development, FID, operational readiness and operations. 
In her earlier career she was an energy transactions and project lawyer with Ashurst advising on LNG, upstream gas, coal, power and uranium mega project development and M&A transactions in the energy and resources space.  
Mrs. Bairstow holds a Bachelor of Laws (Hons) and a Bachelor of International Business from Griffith University. She is a regular plenary speaker at keynote industry conferences and has been widely recognized across the industry through the following nominations and awards: ExxonMobil Power Play 'Rainmaker Award'- Finalist, Managing Director's Award, Resources Award for Women- Overall Award Nomination, and Queensland Emergent Woman Lawyer of the Year Award- Finalist.