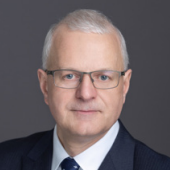 ​

Dr. Andrew Walker

Vice President, Strategy and Communication

​Cheniere Marketing Ltd
Dr. Andrew Walker is the Vice President for LNG Strategy and Communication for Cheniere.  
He is located in London and is responsible for the LNG Strategy and Market Outlook of Cheniere, reporting into the Chief Commercial Officer. 
Until October 2015 he was Vice President for Global LNG - and prior to that Head of LNG Strategy - at BG Group where he worked for over 20 years before joining Cheniere.   
During his career in LNG, he has been located in Singapore, Egypt, the USA and UK and has worked on numerous LNG projects including Atlantic LNG in Trinidad and Tobago, Egyptian LNG, and Dragon LNG in the UK.   
Dr. Walker has a Doctorate in Geology from Imperial College, University of London.