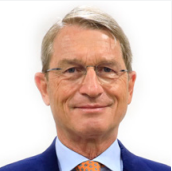 ​

Dr. Harald Link

President

B. Grimm Power PLC
Dr. Harald Link is the third-generation leader of B.Grimm, established in 1878, B.Grimm has flourished in Thailand for 145 years-a period of six reigns, from King Rama V to the reign of current King Rama X-contributing to the country's medical, infrastructure and energy development. 
Today, B.Grimm is a multinational conglomerate with businesses across energy, building and industrial systems, healthcare, transportation, lifestyle and real estate. He has been at the helm of B.Grimm for over 30 years. Under his leadership, B.Grimm continues to set its sights on the future while holding true to the company's core belief of "Doing business with compassion", based on its values of positivity, partnership, professionalism, and pioneering spirit. 
It was not until the 1990s when B.Grimm ventured into the energy sector with its investment. B.Grimm Power, which grew from the first greenfield industrial power plant in Amata City in Chonburi to one of Thailand's key power players. B.Grimm Power's current portfolio includes 56 projects in operation, and aims to ramp up its total installed capacity to at least 7,200 MW of secured power purchase agreements by 2025, and further to 10,000 MW by 2030. More importantly, B.Grimm Power is moving strenuously towards realizing net zero carbon emissions by 2050. 
As all his forefathers, Dr. Link activity engages in various social programmes important to society. Interests close to his heart are education, environment, equestrian sports, classical music and arts. For environment, he plays a leading role in supporting Thailand's "Saving the Tigers" conservation campaign in Thailand to save wild tigers from extinction and restore balance to the jungles. 
Dr. Link is the Chairman of the Association of Private Power Producers and a board member of the Thai Red Cross Society, President of the Thailand and the Southeast Asia Equestrian Federation, Chairman of the Royal Bangkok Symphony Orchestra, Chairman of the Princess Mother's Charities Fund of Thailand and board member of the University of the Thai Chamber of Commerce.