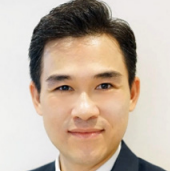 ​

Mr. James Ooi

Vice President (Throughput Business)

​Singapore LNG Corporation
Mr James Ooi is Vice President (Throughput Business) of Singapore LNG Corporation Pte Ltd (SLNG).  In this role, he is responsible for SLNG's throughput service and growth; strategic planning and investment appraisals. He is also Chairman of the Gas Advocacy Task Force of the Asean Council of Petroleum (ASCOPE). 
James has 25 years of experience in the energy sector -- his expertise covers energy market design, asset valuation, commercial contracting for LNG and power, and operations, spanning across multiple regions such as Asia Pacific, North America, the Middle East and North Africa.  
Prior to joining SLNG, James was Partner (Founder) at The Lantau Group in Singapore and was Managing Director of Gas and Power Consulting IHS Markit, Singapore before that.  He has worked and advised extensively for Governments, utilities, private/sovereign wealth funds and major Oil & Gas companies globally.  James has also operated as market participant where he had held the position of Portfolio Manager in YTL PowerSeraya, during which he also served as a nominated member of the Singapore Electricity Market's Rule Change Panel.